---
By Jared Page
May 20th, 2012 @ 8:43pm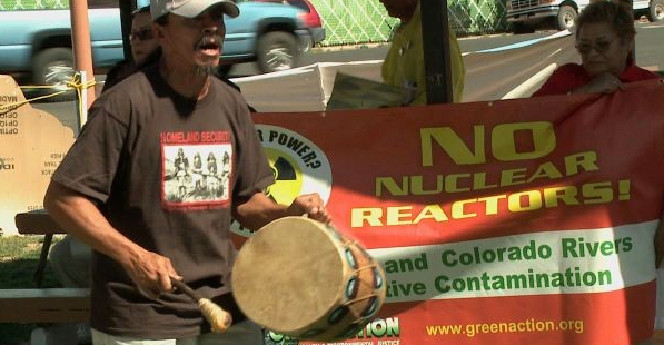 GREEN RIVER, Emery County — Environmental groups and Native American tribes gathered Saturday at the site of a proposed nuclear power plant to protest its location and plans to divert water from the Green River.
"I don't want to see a nuclear reactor in Green River," Moab resident Joan Gough said. "I want to see the water still going down the Green River."
Blue Castle Holdings is proposing to take 53,000 acre-feet of water per year from the Green River for use in the cooling process at the proposed plant, which would be located near the city Green River and generate 3,000 megawatts of electricity.
Saturday's demonstration was organized by groups hoping to save Green River water from that fate.
"This is a land of national parks," said John Weisheit, conservation director of Moab-based Living Rivers. "We have Arches National Parks. We have Canyonlands National Park. And when it's cold and plumes are flying high in the atmosphere, visitors are going to say, 'What is a nuclear power plant doing out here in our national park?'"
Sarah Fields, program director for the environmental group Uranium Watch, said the issue affects more than just southern Utah residents.
"That's why we're seeing involvement from downriver residents like the Fort Mojave and Colorado River Indian tribes, along with those who live downwind in Colorado and points beyond," Fields said. "The effects of nuclear power are farther reaching than the reactor site and stretch well into the future."
Protestors marched with signs and banners to "celebrate and protect the Green River and the Colorado Plateau," organizers said. Those who gathered for the demonstration were motivated by several concerns, including the reliability of Blue Castle Holdings, the secondary impacts of mining and milling radioactive minerals, and potential threats to regional safety.
Their main concern, though, is water.
"Radioactivity can leech out and go into an underground aquifer, seep into the Colorado River and contaminate the Colorado River," said Steve Lopez, spokesperson for the Fort Mojave Indian tribe. "The Indian tribes, who are primary water rights owners of the lower Colorado River, are opposed to nuclear waste dumps (and) nuclear activity sites being built along the river."
"The Colorado River is the lifeline of our tribes," added Alfredo Figueroa, a member of the Chemehuevi tribe who traveled 618 miles to protest what he called an "idiotic" project.
"We are not going to stand by and watch any of these projects develop near the Colorado River," Figueroa said.
Environmental groups filed lawsuits filed in March in hopes of killing plans for the proposed twin-reactor nuclear power plant. The suits ask the district court to overturn the Utah state engineer's decision granting water from the Green River to the project.
Ultimate approval of the proposed plant must come from the federal Nuclear Regulatory Commission.
---

Environmental groups, tribes join to protest nuclear power plant | ksl.com
---