---

FOR UPDATES: BBC ASIA-PACIFIC
NHK WORLD English (Japan Broadcasting Corporation)
The Telegraph (telegraph.co.uk)
GOOGLE SEARCH LATEST NEWS FOR "Fukushima + nucler"
GOOGLE RSS FEED FOR "Fukushima + nuclear"
Also check Democracy Now for excellent reporting.


---
FOR THE LATEST UPDATES GO TO TOP OF BLOG
---
UPDATE 8:30 PM 2030 PDT MONDAY MARCH 14



There have been explosions at three reactors - serious levels of radiation are leaking - "partial meltdowns" are suspected.





The third incident is said to be different and potentially worse than the first two hydrogen explosions in which the external buildings ("above containment" structures) blew apart - it may be that this reactor's core itself has been cracked due to extreme pressure.



BBC: Radiation fears after Japan blast
Radiation levels at a Japanese quake-stricken nuclear plant have reached levels high enough to affect human health, a top official warns... Radiation levels around Fukushima for one hour's exposure rose to eight times the legal limit for exposure in one year, said the plant's operator, the Tokyo Electric Power Co (Tepco)... In his televised address, Prime Minister Kan said: "There is still a very high risk of more radiation coming out." ...Mr Kan also said a fire had broken out at the plant's reactor 4. It now appears to have been put out.

ABC: Japan Earthquake: Radiation Leaking After Fukushima Nuclear Plant Explodes (article with video news special)
Radiation has spread from damaged reactors at the Fukushima Daiichi nuclear plant following an explosion at one unit and a fire at another, Japanese government officials said early Tuesday. A spokesman for the government said radiation levels at areas around the plant are high enough to pose a health risk.

GOOGLE NEWS FOR UPDATES


---
Ace Hoffman's blog -- mostly about nukes:
- Things are really bad, folks... seasoned activists are crying...
I'm aghast. Frightened. Shaking. This is the worst day of my life. Helen Caldicott said on the radio earlier tonight: "This could be much worse than Chernobyl."


---
UPDATE 5:00 PM 1700 PDT MONDAY MARCH 14

Third explosion raises spectre of nuclear nightmare - - New explosion at Fukushima plant, as engineers fought to prevent a meltdown in the second worst nuclear accident in history.
- The Telegraph - telegraph.co.uk

Radiation levels rise four-fold after explosion at Japan nuclear plant (Reuters):
"According to the plant operator, after the explosion radiation levels in the air surrounding Japan's quake-stricken nuclear power plant to rose four-fold... The radiation reading at 8:31am local time (2331 GMT) climbed to 8,217 microsieverts an hour from 1,941 about 40 minutes earlier, Tokyo Electric Power Co said..."


---

Japanese Nuclear Jet Stream Fallout Map for CANADA BC & USA

StormSurf weather animation >Click for current Wave Model - North Pacific Surface Pressure and Wind (180 hr. loop)


---
SEE ALSO: fallout alert
---
As of 5:20 PM 1320 PDT MONDAY MARCH 14 it is said that there may be a containment breach and pressure in the core container has dropped indicating a leak, fuel rods are halfway exposed, there are elevated radiation readings around the plant, but there is no announced catastrophic meltdown... AT 7:15 PM it is noted that cooling efforts continue on reactors 1,2, and 3, while number 4 reactor is burning... the amount of radiation being release is now at harmful level


- NHK live television on PBS
CHECK LOCAL PBS STATIONS NHK WORLD NEWS (Japan Broadcasting)

Japan suspects nuclear reactor container damaged
AP - TOKYO — Japan's nuclear safety agency says it suspects an explosion at a nuclear power plant may have damaged a reactor's container and fears a radiation leak.
An agency spokesman, Shigekazu Omukai, says the nuclear core of Unit 2 of the Fukushima Dai-ichi plant was not damaged in the explosion early Tuesday.
But the agency says it suspects the bottom of the container that surrounds the generator's nuclear core might have been damaged.
Another agency spokesman, Shinji Kinjo, says that "a leak of nuclear material is feared."


---
As of 4:30 PM 1630 PDT MONDAY MARCH 14 there is no announced catastrophic meltdown
The authorities are saying that the core containers have remained intact
- But: Radiation levels increase in Japan - fallout for US West Coast will not be zero!
---
infowars.com: Cover Up Of Fukushima Chain Reaction Underway
All the nuclear reactors at the earthquake stricken Fukushima nuclear plant are under threat of melting down and exploding in a chain reaction that will signify the world's worst ever nuclear disaster and send clouds of radioactive particles hurtling towards the United States – that's the scale of the crisis facing Japan as officials admit for the first time that three nuclear reactors are already in a meltdown.

While the mainstream media continues to argue over the definition of a "meltdown" while unquestionably regurgitating the dubious claim of Japanese officials that the two massive explosions witnessed at the plant were caused by pressurized hydrogen, radioactive isotopes cesium-137 and iodine-121 have been detected by helicopters flying 160km (100 miles) away from the nuclear plant, which can only mean one thing, according to the Seattle Times: "One or more of the reactor cores is badly damaged and at least partially melted down."
SEE ALSO: fallout alert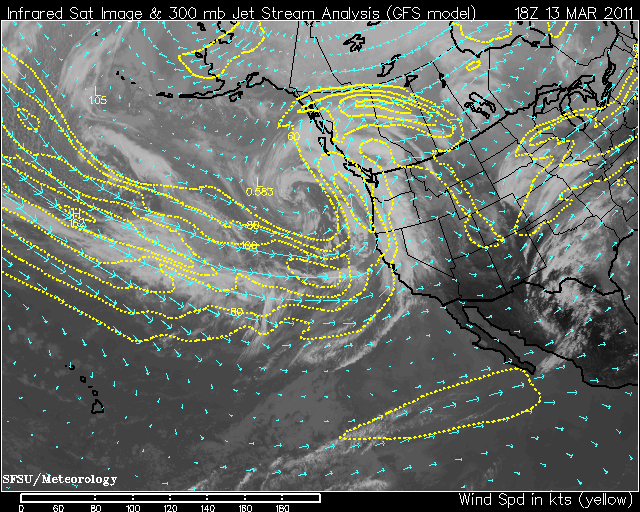 Pacific Jet Stream (13 March 2011)

prisonplanet.com:U.S. West Coast in Path of Fallout
"If There Were a Reactor Meltdown or Major Leak at Fukushima, the Radioactive Cloud Would Likely be Blown Out … Towards the US West Coast" (Washington's Blog, Agence-France Presse, March 13, 2011)


---
---
UPDATE 3:00 PM 1500 PDT MONDAY MARCH 14
GUARDIAN: Crisis deepens at Fukushima nuclear power plant in Japan
Fuel rods in three nuclear reactors at the Fukushima plant are likely to have suffered partial meltdown after series of setbacks...


---
UPDATE 1:30 PM 1330 PDT MONDAY MARCH 14

NHK WORLD: Fuel rods may be exposed again at reactor
The Tokyo Electric Power Company has said fuel rods in the Number Two reactor at its Fukushima Number One nuclear power plant may be exposed again.

The company also reported an emergency situation to the government as the radioactivity level around the compound rose to a highest ever 3,130 microsieverts at 9:37 PM on Monday. That's 6 times higher than the permissible level...

JAPAN TIMES: Crisis continues at Fukushima nuclear plant as fuel rods exposed again
A crisis continued Tuesday at the troubled No. 2 reactor at the quake-hit Fukushima No. 1 nuclear power plant, as fuel rods became fully exposed again after workers recovered water levels to cover half of them in a bid to prevent overheating...


---
UPDATE 9:30 AM 0930 PDT MONDAY MARCH 14
Meltdown alert at Japan reactor
BBC: Technicians are battling to stabilise a third reactor at a quake-stricken Japanese nuclear plant, which has been rocked by a second blast in three days.


---
---
UPDATE 4 AM 0400 PDT MONDAY MARCH 14

Third reactor has lost all its cooling capability.

Authorities continue to claim that fallout danger is low; that the core units are still intact, and there have been no nuclear explosions.

Major aftershocks continue, and: Another nuclear facility in Japan is now reporting problems as well.


---
Govt: Fukushima nuke plant loses cooling ability
NHK WORLD (English): The Nuclear and Industrial Safety Agency says a reactor at a power plant in quake-hit Fukushima Prefecture has lost all its cooling capability.

The agency said on Monday that Tokyo Electric Power Company notified the agency of an emergency at the Number Two reactor at its Fukushima Number One power station.

This is the second emergency notice for the reactor.
The utility firm told the agency shortly after the quake on Friday that the reactor's emergency cooling power system had failed...

Fears of a hydrogen explosion at the vessel housing building are growing as the water level of the reactor is falling. A reaction with the steam and exposed fuel rods generates a large amount of hydrogen.

Hydrogen blasts have occurred at two other reactors at the plant...
Monday, March 14, 2011 17:20 +0900 (JST)


---
TEPCO struggles to cool down reactors at Fukushima
NHK WORLD (English): Cooling system failures continue to plague two nuclear power stations in earthquake-hit Fukushima Prefecture.

An explosion shortly before noon on Monday at the Fukushima Number One plant was the second such blast in three days. The explosion blew off the ceiling and a wall of the Number Three reactor building... Japan's nuclear authorities believe Monday's blast occurred in a similar manner to an explosion at the plant's Number One reactor on Saturday, after a massive amount of hydrogen accumulated in the building housing the reactor chamber.

The Nuclear and Industrial Safety Agency and Tokyo Electric say no abnormal rise in radiation levels has been detected around the compound of the plant. They say the reactor's vessel is under control and that pressure inside the reactor remains stable...

The power company is pumping in seawater to cool that reactor, and is considering ways to release air from the building, fearing another hydrogen blast.

At the Number Two power plant, the cooling systems for three reactors failed. The device to pump seawater was damaged by the tsunami following Friday's earthquake. But the pumps have been replaced for two of the reactors. Tokyo Electric is trying to restore the cooling system for the remaining reactor.
Monday, March 14, 2011 18:39 +0900 (JST)


---
See also:
SECOND Fukushima Explosion: Japan Nuclear Plant Rocked By Hydrogen Explosion (this blog 3/13/11)

FALLOUT ALERT (this blog, 3/13/11) - includes info on POTASSIUM IODIDE radiation treatment

Japan nuclear power plant - blast, partial meltdown (this blog, 3/12/11)

Nuclear Power Kills; here's how (this blog, 3/12/11)

Japan's Nuclear Crisis: Lessons for the U.S. (this blog, 3/12/13)

All Things Nuclear - UCS Factsheet: "Nuclear Accident ABCs"

All Things Nuclear - "Reactor Core Cooling"


---
NO NUKES | RE-TOOL NOW
---
---
FOR UPDATES: BBC ASIA-PACIFIC
NHK WORLD English (Japan Broadcasting Corporation)
GOOGLE SEARCH LATEST NEWS FOR "Fukushima + nucler"
GOOGLE RSS FEED FOR "Fukushima + nuclear"

---
---
FOR THE LATEST UPDATES GO TO TOP OF BLOG
---
---
See also:
• other Fukushima updates for background info and links -

Deepak Chopra homebase: Fukushima ~ Indian Point, NY
Fukushima a "Ticking Time Bomb"
Nuclear Catastrophe in Japan "Not Equal to Chernobyl, But Way Worse"
Nuclear Power = Crime Against Humanity
Obama: No Money for Nukes!
Pacifica Nuclear Teach-in | The Code Killers by Ace Hoffman
Nuclear Obama, Radioactive Boars & Frogs of Fukushima
fukushima plutonium
Fukushima still fuming - nuclear catastrophe update
March archive
---
CHECK FOR NEWS:
• news feeds on right, and links at top of previous posts
• more news feeds below

---
-!- fukushima explosion fukushima nuclear plant japan nuclear crisis nuclear disaster radiation radioactive fallout nuclear energy safety -!-
---
NO NUKES | RE-TOOL NOW
---